2018-03-19 / @thenewswire
(TheNewswire)
VANCOUVER, BC / TheNewswire / March 19, 2018 - Goldex Resources Corporation (TSX VENTURE: GDX, Frankfurt: WKN-A2AEDT, Ticker: G6T2) ("Goldex" or the "Company")
In 2017, Goldex set out to identify a gold project in West Africa that would have the potential to create the foundation for a significant gold mining company There were certain criteria, such as the projects location and geology, that were crucial to our decision.  Mali is the third largest gold producer in Africa and hosts several world class mines with greater then 4 million ounces of gold in resources and has a strong pro-mining culture.  We also targeted assets with development plans and ideally environmental permits and mining licenses in place, as well as an in-country team.  The Korokoro property joint venture agreement announced on February 26, 2018 met all these criteria.  
Korokoro JV Partners
RexMetal, S.A.R.L. ("REX") 10%.  The Korokoro license was granted to REX by the Mali government.  The President of REX, Mme. Djeneba Samake, is also the President of the Mali Woman's Mining Association which has 536 active members.
Geo-Sys-Tech S.A.R.L. ("GEO") 39% The key shareholders of GEO are a group of five experienced European geology, mining, ore processing, maintenance, logistics and security experts (92%) and two Malian citizens (8%) which have a deep insight, understanding of political situation and family relations in the Republic of Mali and in the local environment.  
GEO has been the developer of the Korokoro project and their project manager, Dr. Uros Herlec, has a doctorate in geology and is a professional natural scientist registered with the professional organization, Slovenian Geological Society, and is a full member of the European Federation of Geologists.  Dr. Herlec was for five years the President of the Slovenian Geological Society and for 3 years the Vice-President of the European Federation of Geologists.  Dr. Herlec has a permanent lecturing position at the University of Ljubljana, Faculty for Natural Sciences and Engineering, Department of Geology.  Dr. Herlec's areas of research and consultancy have been ore-genetic studies, Economic Geology, Ore Mineralogy and Microscopy, Geochemistry, Ore Beneficiation Methodology, Karst Geology, Geoheritage.  Dr. Herlec has directed the development plan of GEO along with his colleagues from the from the University of Ljubljana.  
With exploration drilling having been completed to a 30-meter depth, GEO's development plan for the Korokoro property calls for a simple conventional open pit mining and gravitational processing of heavy mineral ores with a mobile beneficiation plant to enable ecological and low-cost production.   GEO's exploration plan calls for additional deeper drilling.
GEO and REX have provided geological reports to the Company. REX reports indicate laterite covers most of the concession with a thickness of up to 6-10 meters. The reports provided to the Company indicates that exploration has consisted of geological mapping, geochemistry, geophysics and surveys by the Japan International Cooperation Agency and other companies.  Exploration work included 647 meters of drilling in 315 drill holes and 439 geochemical samples.  GEO's reports provided to the Company indicate that exploration along the promising mineralized and altered contact between the granitic batholiths and Pre-Cambrian lithic sandstones may add significantly to the mineralization.  
Ongoing – Project Development
Mr. Andrew Dacey, MSc, R. P. Geo, a Qualified Person as defined under NI 43-101 regulations, has reviewed the technical information that forms the basis for portions of this news release, and has approved the disclosure herein. Mr. Dacey is independent of the Company as he is not an officer or shareholder.
The Board of Directors are very pleased with this new JV and look forward to the development of the Company's first property in West Africa.
CHARLES ROSS, President
GOLDEX RESOURCES CORPORATION
For more information please visit:  www.goldex.ca
Neither the TSX Venture Exchange nor its Regulation Services Provider (as that term is defined in the policies of the TSX Venture Exchange) accepts responsibility for the adequacy or accuracy of this release.
Forward-Looking Statements
Statements in this news release that are forward-looking statements are subject to various risks and uncertainties as disclosed herein and elsewhere in the Company's periodic filings with Canadian securities regulators.  When used in this news release, words such as "will", "plan", "estimate", "expect", "intend", "potential", "should", and similar expressions, are forward-looking statements.  Forward-looking statements include, without limitation, statements regarding future oriented events and other statements that are not historical facts.  Forward-looking statements are based on a number of assumptions and estimates that, while considered reasonable by management based on the business and markets in which the Company operates, are inherently subject to significant operational, economic and competitive uncertainties and contingencies.  Such forward-looking statements should therefore be construed in light of such factors.  There can be factors that cause actual results, performance or achievements to be materially different from those anticipated, estimated or intended in the forward-looking statements over and above those identified herein. There can be no assurance that management's expectations or estimates of future developments, circumstances or results will materialize. Accordingly, readers should not place undue reliance on forward-looking statements. The forward-looking statements in this news release are made as of the date of this news release, and Company disclaims any intention or obligation to update or revise such information, except as required by applicable law, and the Company does not assume any liability for disclosure relating to any other entity herein.
Suite 2300- 1177 West Hastings Street Vancouver British Columbia Canada V6E 2K3
Telephone: (604) 699-4300 Facsimile: (604) 909-4682
www.goldex.ca
REGIONAL GEOLOGICAL MAP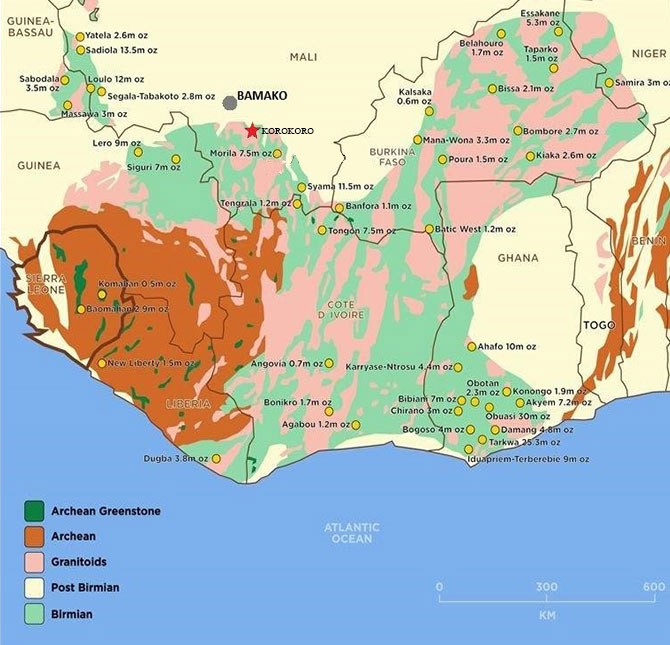 Click Image To View Full Size
Regional geology and location of Korokoro and major deposits
NOT FOR DISTRIBUTION TO US NEWSWIRE SERVICES OR FOR DISSEMINATION IN THE UNITED STATES
Copyright (c) 2018 TheNewswire - All rights reserved.