By Geoffrey Caveney / October 18, 2016 / seekingalpha.com /
Article Link
While U.S. coal companies like Arch Coal and Peabody Energy declared bankruptcy last year and this year, coal prices actually rallied in 2016.
Huge coal stock gains did happen in 2016 -- outside of the U.S.
The KOL ETF boomed up 105% Year To Date, sparked by the performance of Asia-Pacific stocks in particular.
The biggest winners were Australia's Whitehaven Coal and Indonesia's Adaro Energy, up 325% and 182% Year To Date.
The lesson: Combine an investment thesis about a commodity or sector with a broad international view of the industry and the companies and stocks that make it up.
I started paying closer attention to coal stocks in the summer of 2015 when reports came out that George Soros had bet a million or two on the stocks of struggling U.S. coal producers Peabody Energy (BTUUQ) and Arch Coal (NYSE:ARCH).
That bet didn't work out, as Arch Coal and Peabody declared bankruptcy along with virtually the entire U.S. coal industry over the course of the past two years.
But you may have noticed that the Market Vectors-Coal ETF (NYSEARCA:KOL) surprisingly boomed into a roaring bull market in 2016, gaining 105% year to date: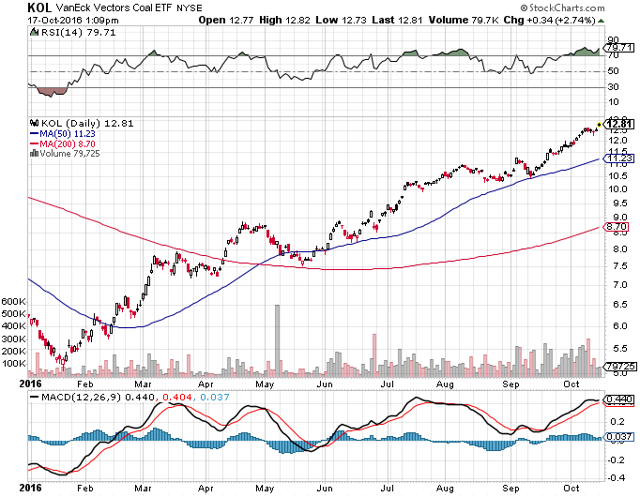 It wasn't the U.S. coal stocks that stoked this bull run, so what was it?
It turns out that, while the rest of us were watching Peabody and perhaps speculating on a miracle turnaround, the real money in coal was to be had in the Asia-Pacific region, in particular in Australia and Indonesia.
While U.S. coal companies declared bankruptcy, investors in Australia's Whitehaven Coal (OTCPK:WHITF) and Indonesia's Adaro Energy (OTCPK:ADOOY) made a fortune this year. With healthier business operations and finances than the troubled U.S. coal industry, these companies were positioned to take advantage of rising coal prices this year, and investors noticed in a big way.
Whitehaven Coal produces both thermal coal (for electric power generation) and metallurgical coal (used in steel production) at five mines in the Gunnedah Basin area of New South Wales, Australia, northwest of Sydney (see map below). It ships the coal to the port of Newcastle, north of Sydney, and exports it to customers mainly in Japan, Korea, Taiwan, and India.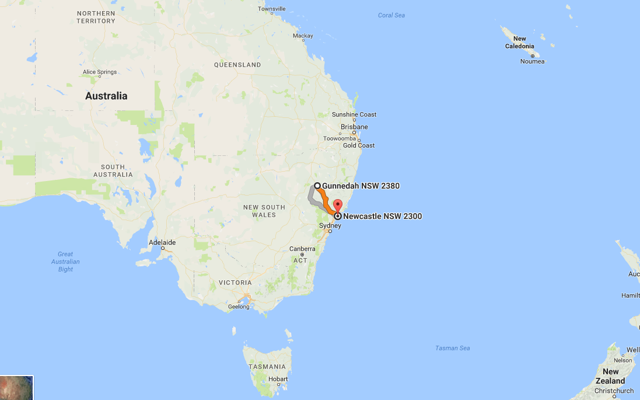 Whitehaven stock has gained an extraordinary 325% Year To Date in 2016. From the low of A$0.35/share in February to the high of A$3.02 this week, the gain has been as much as 763%: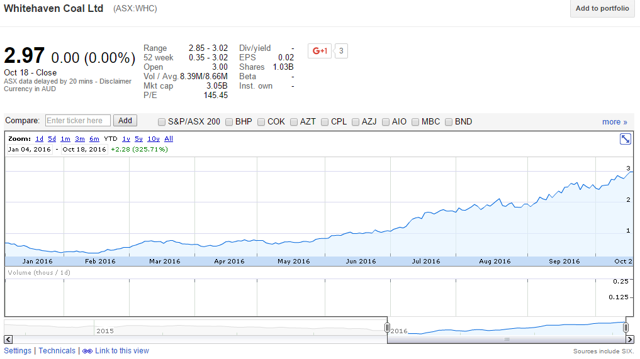 Adaro Energy produces primarily thermal coal for electric power utilities at the largest single-site coal mine in the Southern Hemisphere, in Tabalong, Indonesia (see map below).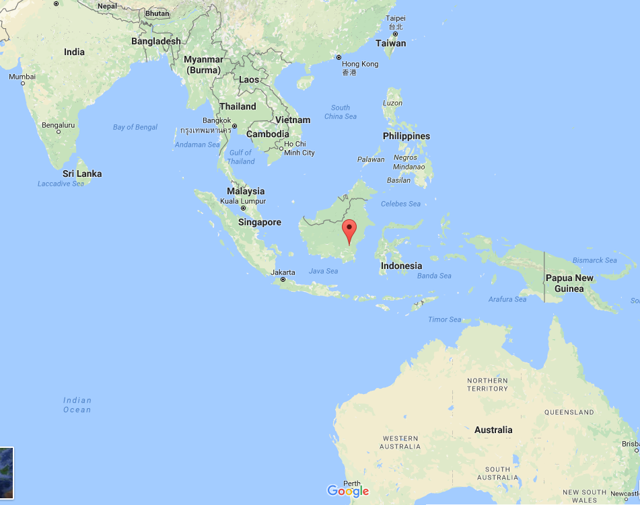 Adaro Energy boasts that its trademarked Envirocoal is "the cleanest thermal coal available on the export market." The company describes it as "a sub-bituminous, moderate calorific value coal producing ultra-low sulphur, ash and NOx emissions."
Adaro has also had a fantastic year, with its stock price rising 182% Year To Date in 2016, with a gain of as much as 248% from the low in January to the high this week: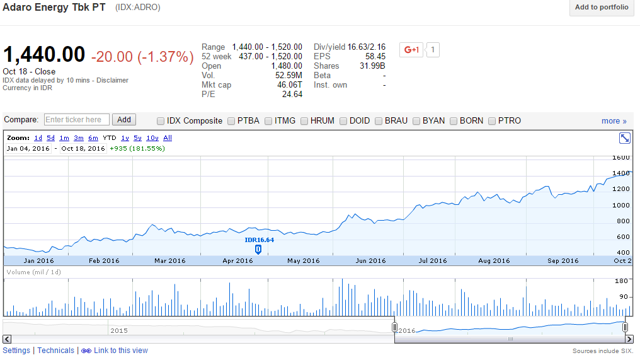 Conclusions
The lesson for investors here is to combine an investment thesis about a commodity or sector with a broad international view of the industry and the companies and stocks that make it up.
Investors were right to view the coal industry as oversold and undervalued in 2015 and early 2016. But it was a mistake to look only at the big names in the U.S. coal industry for a recovery and stock price gains.
Rather, it was the Asia-Pacific region's coal industry that was well positioned and poised to make gains upon a coal price recovery. It turns out that an ETF like KOL was a simple way for investors to gain good exposure to this development. Investing directly in names like Whitehaven Coal and Adaro Energy would have been even better.
I admit that this is an after-the-fact hindsight analysis as far as 2016 is concerned. These names were not on my radar screen in 2015 either. By now, it is quite possible that these stocks are temporarily overbought or overvalued at their present levels.
But the point is, this can be a valuable lesson to inform future investment research and decisions. When you have an investment thesis about a commodity or industry, include stocks of companies in places like Australia or Indonesia in your research. As we have seen in the coal sector in 2016, it could be the difference between a total loss and a 763% gain!
Disclosure: I/we have no positions in any stocks mentioned, and no plans to initiate any positions within the next 72 hours. I wrote this article myself, and it expresses my own opinions. I am not receiving compensation for it (other than from Seeking Alpha). I have no business relationship with any company whose stock is mentioned in this article.
Editor's Note: This article discusses one or more securities that do not trade on a major U.S. exchange. Please be aware of the risks associated with these stocks.
Follow Geoffrey Caveney and get email alerts