By P_Radomski_CFA / November 24, 2022 / www.marketoracle.co.uk /
Article Link

While comparing gold and bitcoin givessome idea of the patterns in the market, can the slide of junior miners bepredicted by the same method?

Those of you who have been following myanalyses for a while may be expecting me to write that it is based on the stockmarket's rally and thus only temporary, as miners will follow gold soonerrather than later. That's their ultimate source of revenue (current orexpected). While that's true, right now there is another huge factor that'slikely contributing to the situation.

It's most likely the unfoldingcrypto-drama.

Remember when I previously commented onthe link between juniors and cryptocurrencies? What I wrote back then wasparticularly important with regard to the less known (obscure?) ones with ashady background. In fact, some even call them "shitcoins."
I wrote that for many individualinvestors, cryptocurrencies became the"new precious metals market."
Alternative payment system? Just likegold, right?
There's a flagship asset (gold, Bitcoin).
There's a less expensive but obviouslymore useful asset (silver, Ethereum).
There are a number of little-known assetsthat are risky but have the potential to provide massive returns (high-qualitymining stocks, low-quality mining stocks, especially low-quality junior miningstocks, altcoins, "shitcoins").While gold was not doing much, thewild rallies in cryptos got much more attention. That was finally exciting!
So, individual investors flocked from theprecious metals market to cryptos. Not all investors, of course, but many.
While cryptos were on the rise and theoverall sentiment was positive, investors dropped their PM holdings to buycryptos as they forecasted that the latterwould continue to rally "to the moon." And while it didn't matter that much forgold, as the yellow metal has powerful buyers and sellers that are notinterested in cryptos, it mattered a lot to the junior mining stock sector asthe buying power waned.
Fast-forward to the current situation,every other day we hear or read about yet another crypto scandal, while pricesof cryptocurrencies are declining sharply.
This means that the above-mentionedeffect could have been reversed. The investors who moved out of the juniormining stock sector in order to get into cryptos (in particular altcoins) couldnow be aiming to get out of that market (people tend to sell on declines, infact, that's why declines happen in the first place) and get back to what they"had liked" before – junior miners.
This specific phenomenon can be seen froma broader point of view when one compares the prices of gold and bitcoin.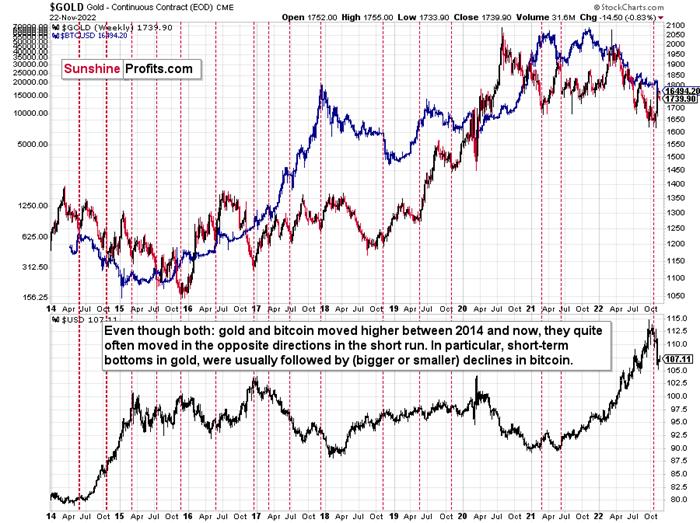 As I wrote, the link is likely strongerin the case of altcoins and juniors, but gold and bitcoin have price datathat's more comparable, so that's what I'm going to analyze.
Even though both gold and bitcoin movedhigher between 2014 and now, they quite often moved in opposite directions inthe short run. Short-term bottoms in gold, in particular, were usually followedby (larger or smaller) declines in bitcoin.
Interestingly, I originally featured theabove chart many months ago, and please note that this tendency worked like acharm recently.
Goldformed a short-term bottom, rallied, and now Bitcoin slides. Why? Probablybecause people were fed up with Bitcoin's inability to hold its ground, whilegold soared. So they flocked to gold, silver, and - probably most intensely so - to juniormining stocks.
Allright, so does this mean that as Bitcoin slides into the abyss, junior minersare now going to soar?
No.
No market moves up or down in a straight line, right? Well, neither does Bitcoin. How low is too low,then? That's where technicals come in.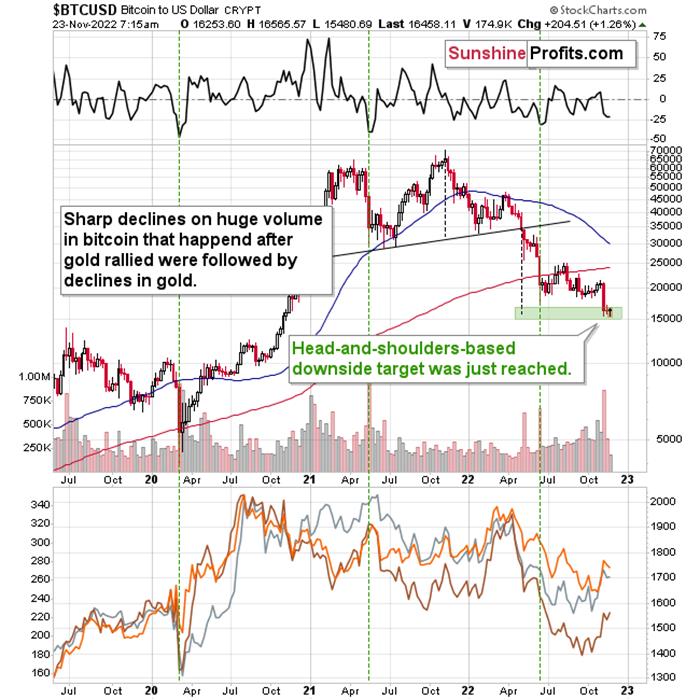 Remember when I wrote that Bitcoin wastopping at about $50,000? Well, it did move a bit above that, but it didn'ttrade there for long.
The flagship crypto fell like a stone inwater, and it did so in tune with the technical principles. Bitcoin formed a bearishhead and shoulders top pattern, and after breaking below the necklevel earlier this year, it then corrected a bit, and then it plunged below$20,000.
All this is a textbook-example of how ahead and shoulders pattern should work.
Now, the size of the decline based onthis pattern is likely to be equal to the size of its head. I marked that withdashed lines.
Guess what – Bitcoin just moved to thistarget level (marked with green) recently. That is a strong indication that thebottom has been reached.The second indication comes from the huge volume thatjust accompanied the decline and the fact that the decline was quite sharp. TheROC (rate of change) indicator at the top of the above chart is close to -25and when this happened and bitcoin was after a huge-volume decline, it thenrallied.
What is even more interesting is thatthose were also the times when gold declined.
The sentiment itself is the finalindicator that a short-term (!) bottom for bitcoin is in or near. Just go toany news website and look at what is being written about Bitcoin – it's allscary and bearish. Or at least the majority of news/articles. That's whathappens when prices fall to their lowest point. Remember what was written onthose same pages when bitcoin was trading above $50,000? It was all sunshineand rainbows. All this time, I warnedabout the incoming slide. Very few listened then, just as very few want to hearabout the upcoming slide in junior mining stocks.
Anyway, here's how frequently peoplesearch for "crypto scam" on Google (chart courtesy of Google Trends).
The other distinctive peaks in thosesearches were in May 2021 (a major top and major decline in Bitcoin), earlyNovember 2021 (a major top in Bitcoin), and the end of January 2022 (a majorbottom in Bitcoin).
The interest was this high only whenthere were major turnarounds in Bitcoin. And since it's crystal clear that theprevious move in Bitcoin was to the downside, it can't be atop. Therefore, it's likely that there's a major bottom in Bitcoin.
Not necessarily the final one, but amajor one for some time. A bottom that's big enough to trigger a sizable rallyin Bitcoin… And a sizable decline in theprecious metals sector!
It's easy to follow the herd. "Minersgood, Bitcoin bad" is the current word out there. It's also easy to repeat thismantra. But what's easy and what's profitable are rarely the same thing, whichis why many tend to lose money over time. I'm not saying that each and everyprice move can be predicted – it can't. However, as time goes on, followinglogical analysis and paying attention not to follow the herd often pays huge dividends.
My responsibility is to keep you up todate on my market views, which I strive base on logical analyses free of bias.Whether it's possible for a human to achieve this kind of objectivity isanother question, but, as much as I can, I aim to deliver analysis that's asobjective as possible. Right now, the way I see it, Bitcoin appears to haveformed a short-term bottom, and mining stocks have either formed a short-termtop or are about to do so soon.
Of course, I can't make any guarantees,but in my view, the next move lower in the precious metals sector – especiallyin the junior mining stocks – is likely to be something epic.
Thank you for reading our free analysistoday. Please note that the above is just a small fraction of today'sall-encompassing Gold & Silver Trading Alert. The latter includes multiplepremium details such as the targets for gold and mining stocks that could be reached in the next few weeks. If you'dlike to read those premium details, we have good news for you. As soon as yousign up for our free gold newsletter, you'll get a free 7-day no-obligationtrial access to our premium Gold & Silver Trading Alerts. It's really free– sign up today.
Thank you.
Przemyslaw Radomski, CFA
Founder, Editor-in-chief
Toolsfor Effective Gold & Silver Investments - SunshineProfits.com

Tools für EffektivesGold- und Silber-Investment - SunshineProfits.DE
* * * * *
About Sunshine Profits
SunshineProfits enables anyone to forecast market changes with a level of accuracy thatwas once only available to closed-door institutions. It provides free trialaccess to its best investment tools (including lists of best gold stocks and best silver stocks),proprietary gold & silver indicators, buy & sell signals, weekly newsletter, and more. Seeing is believing.
Disclaimer
All essays, research and information found aboverepresent analyses and opinions of Przemyslaw Radomski, CFA and SunshineProfits' associates only. As such, it may prove wrong and be a subject tochange without notice. Opinions and analyses were based on data available toauthors of respective essays at the time of writing. Although the informationprovided above is based on careful research and sources that are believed to beaccurate, Przemyslaw Radomski, CFA and his associates do not guarantee theaccuracy or thoroughness of the data or information reported. The opinionspublished above are neither an offer nor a recommendation to purchase or sell anysecurities. Mr. Radomski is not a Registered Securities Advisor. By readingPrzemyslaw Radomski's, CFA reports you fully agree that he will not be heldresponsible or liable for any decisions you make regarding any informationprovided in these reports. Investing, trading and speculation in any financialmarkets may involve high risk of loss. Przemyslaw Radomski, CFA, SunshineProfits' employees and affiliates as well as members of their families may havea short or long position in any securities, including those mentioned in any ofthe reports or essays, and may make additional purchases and/or sales of thosesecurities without notice.
© 2005-2019 http://www.MarketOracle.co.uk - The Market Oracle is a FREE Daily Financial Markets Analysis & Forecasting online publication.