By Rick Mills / November 23, 2022 / www.theaureport.com /
Article Link
Expert Rick Mills explains the uses, geology, and market for zinc to tell you why he believes this is a transitional metal you should be paying close attention to.

Lead-zinc is among the most important of base metals, constituting an essential requirement of a country's industrial development. The two metals keep us powered and sheltered, yet the lead-zinc sector has not seen a major discovery in over two decades, leading to concerns over resource depletion.
Lead (Pb) is a soft, bluish-gray element. Because it is so soft, lead is usually alloyed with other elements. Its density, stability, and flexibility make lead an ideal material for a number of applications. Zinc (Zn) is bluish-white with a dull finish. The metallic element is hard, brittle, and a good conductor of electricity. Zinc has relatively low melting and boiling points, at 419.5 degrees C and 907C, respectively.
Zinc is the fourth most common metal in the world, behind iron, aluminum, and copper. The base metal is most often alloyed with copper to make brass, but other binary alloy metals include aluminum, antimony, bismuth, gold, iron, lead, mercury, silver, tin, magnesium, cobalt, nickel, tellurium, and sodium.
Uses
The three main lead compounds are white lead, red lead, and litharge. Because of its opacity and preservative qualities, white lead is mainly used to make paints. Red lead is used as a protective coating, while litharge, a lead oxide, is utilized for making glass, ceramics, and varnishes.
Lead is interesting in that it is both poisonous and offers protection. Exposure to even small amounts can be harmful to the human body, involving blood problems, kidney problems, and neurological disorders. At one time, the fuel industry was a major user of lead.
Tetraethyl lead was added to gasoline to prevent knocking and ensure the fuel burned evenly. However, in 1996 leaded gasoline was banned in the U.S. due to the high lead levels, which caused engines to emit (the U.S. had begun phasing leaded gas out in 1973, and other countries followed.
The last nation to ban it was Algeria in 2021). Lead's ability to absorb radiation makes it ideal for X-ray protection; aprons and gloves are made of lead, while in nuclear reactors, glass containing lead monoxide is used to protect against radiation. Read more here.
Over three-quarters, (76%) of the lead consumed annually is used to make automobile batteries, and every EV (except Tesla's X/S Models) also has a lead/ acid battery. Another 20% is utilized in electronics and communications, such as television/ computer screens, protective coatings, and solders. Because it is so easily melted and refined, lead has the highest recycling rate of all industrial metals; over 95% of car and truck batteries are recycled.
Zinc's main function is to galvanize metals. Adding a zinc coating to steel or iron protects it against rusting.
A high percentage of steel that goes into buildings and automobiles is galvanized with a zinc coating, making it a highly prized metal.
Indeed, making rust-proof cars could not take place without zinc. The metal is used in many stages of the assembly line, including engine parts, fuel systems, and chassis, where components are plated with zinc. Zinc-coated parts are reportedly able to withstand up to 1,000 hours of salt spray testing.
Auto manufacturers in the U.S. have, for the past 25 years or so, been using a zinc-nickel-alloy for plating. The nickel adds to zinc's anti-corrosive properties and provides a lustrous sheen.
Zinc alloys, including brass, are used in corrosion-resistant marine components and musical instruments.
Zinc is also used heavily in infrastructure build-outs. This includes bridges, public buildings, power stations, dams, etc., in the U.S., much of the developing world, and China's Belt and Road Initiative, which along with needing billions of tonnes of copper, will require a lot of steel containing zinc.
Zinc, of course, is already used in alkaline batteries - a type of battery that gets its energy from the reaction between zinc and manganese dioxide.
Zinc is an essential mineral for the human body, and zinc deficiency is a serious condition remedied by zinc supplements.
Geology
Geological conditions favor the formation of lead and zinc together. Both are often found with other minerals, including copper, gold, and silver, resulting in polymetallic base metal deposits.
The most common lead mineral is galena, while for zinc, it's sphalerite. Other occurring lead minerals are anglesite and cerussite. For zinc, they are calamine, hemimorphite, zincite, willemite, and franklinite.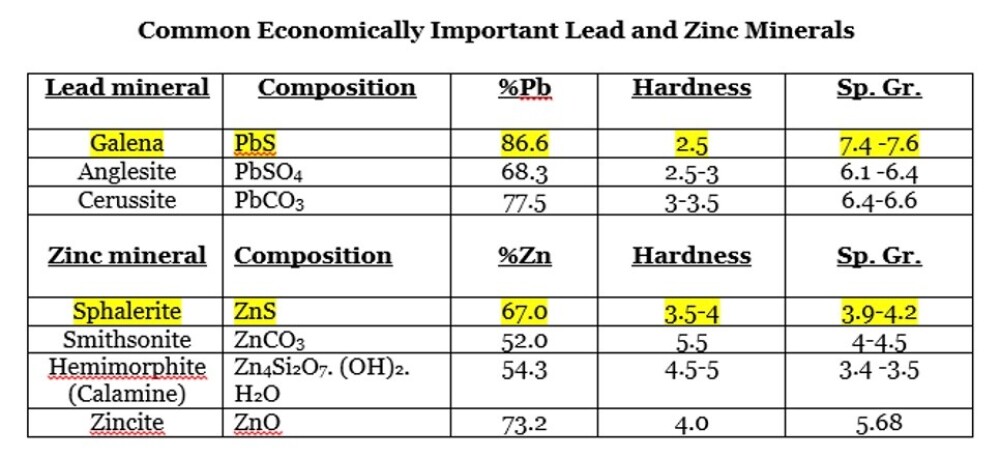 Source: LinkedIn
Zinc is mined in over 50 countries, with China as the leading producer, followed by Peru and Australia. Deposits of zinc-bearing ores are found in most Canadian provinces as well as the Northwest Territories (NWT).

Data in thousand metric tons. Source: U.S. Geological Survey
Mississippi Valley lead-zinc deposits formed when seawater flowed through sedimentary rocks, including limestone, dolostone, salt, and shale. These deposits are found in the Midwestern U.S. and on Baffin Island, Nunavut. Alaska produces the most, followed by Tennessee and Missouri. Read more here.
Lead-zinc deposits occurring in dolostones are common worldwide, including in southern Ontario.
Two of the largest zinc mines in North America are the Pine Point Mine in Canada's NWT and the Red Dog Mine in Alaska.
In the 1930s, Northern Lead Zinc Company started work on lead-zinc sinkholes, with company reports indicating over 500,000 tons of reserves. In 1951 Pine Point Mines was established, the precursor of Canadian mining icon Cominco, which built a large mill and a townsite.
By 1981, the mine was producing about 10,000 tons per day, with over US$2 billion worth of zinc and lead (at today's prices) recovered during the 25 years Cominco operated it, according to one source. Low metal prices and high recovery costs forced Pine Point to shut down in 1988.
The mine was closed around the same time that Cominco began developing the Red Dog Mine in Alaska, where combined lead-zinc averages 25%, with a credit of around 90 grams per tonne silver. The mine has the highest annual production and is reportedly the most profitable zinc mine in the world.
The majority of the world's zinc deposits contain lead, meaning lead and zinc are mined together. Sphalerite is zinc's main ore and is usually associated with galena, the lead mineral, and chalcopyrite, the most common copper mineral.
VMS deposits are estimated to have supplied over 5 billion tonnes of sulfide ore. They currently account for 22% of the world's zinc production, 9.7% of the lead produced, 6% of copper, 8.7% of silver, and 2.2% of gold.
Zinc and lead often occur within limestone, in veins associated with granitoid, and as volcanogenic massive sulfide (VMS) deposits. The latter can also contain precious metals.
VMS deposits are estimated to have supplied over 5 billion tonnes of sulfide ore. They currently account for 22% of the world's zinc production, 9.7% of the lead produced, 6% of copper, 8.7% of silver, and 2.2% of gold.
An estimated 900 VMS deposits are found worldwide, averaging about 17 million tonnes each. And they are still being formed, mostly along tectonic ridges where plate movements form cracks in the Earth's crust - allowing a conduit for minerals to travel up through hot liquids and be deposited, through billowing black clouds, onto the sea floor.
The Iberian Pyrite Belt running through Spain and Portugal has about 90 VMS deposits, with some larger than 100 million tonnes. Large VMS mines are in Scandinavia, including Boliden's Garpenberg mine, a 120-million-tonne VMS monster.
VMS deposits in Canada include Flin Flon, Bathurst, Snow Lake, and Noranda.
They have long been recognized, by both majors and juniors, as potential "elephant country" - and because of their polymetallic content, these types of deposits continue to be one of the most desirable because of the security offered against fluctuating prices of different metals.
They can also have long lives. The Kidd Creek Mine in Ontario, the deepest base-metal mine in the world, has been a VMS deposit in production since 1966. Formerly operated by Falconbridge and now Glencore, the mine produces ore containing zinc, copper, lead, silver, and cadmium.
Mines in Missouri, Alaska, Colorado, Idaho, and Montana produce the majority of lead recovered in the U.S.
Lead-zinc mines output a very important by-product - silver.
Only around 30% of the annual silver supply comes from primary silver mines, with over two-thirds sourced from polymetallic ore deposits, including lead/zinc operations, copper mines, and gold mines. As the pie chart below shows, most silver (30.7%) is produced from lead-zinc.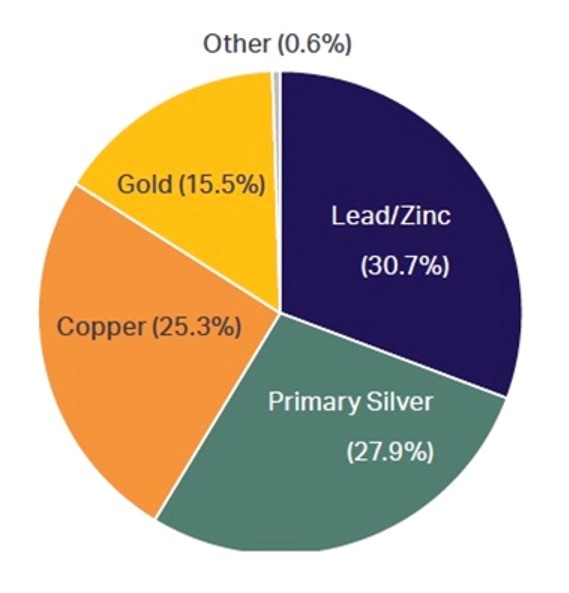 Source: World Silver Survey 2022
The same goes for cadmium. Silver is closely associated with the galena mineral, while cadmium occurs with sphalerite, making cadmium another important by-product of lead-zinc ores.
Processing
Lead, and zinc ores are exploited to recover each respective metal by smelting. Run-of-mine ores must be concentrated before smelting and refining. Beneficiation consists of crushing, grinding, and flotation to produce concentrates of 50-60% lead and zinc.
The objectives of beneficiation are: to recover smelter-grade lead and zinc concentrates; to recover the concentrates of other associated minerals; and to recover precious metals, generally through lead and zinc electro-winning. Flotation encompasses feed preparation, concentration, and dewatering.
Zinc is refined through a process that includes grinding, flotation, and roasting, followed by pyrometallurgy or electrowinning. The ore is first ground to a fine powder, then floated to get a zinc sulfide ore concentrate consisting of about 50% zinc, 32% sulfur, 13% iron, and 5% silicon dioxide (quartz). Roasting then converts the concentrate to zinc oxide.
Pyrometallurgy using carbon or carbon monoxide reduces the zinc oxide to metal. If electrowinning is the chosen method, the zinc is leached from the concentrate with sulfuric acid before being fed into an electric arc furnace and recovered from the dust, mostly through the Waelz process.
Resources
According to data sourced from 'Ore Geology Reviews' (January 2017), there are at least 226.1 million tonnes of lead and 610Mt of zinc within 851 mineral deposits and mine waste projects in 67 countries, at an average grade of 0.44% Pb and 1.20% Zn.
The U.S.GS estimated 90Mt of lead reserves in 2021 and 250Mt of zinc reserves.

Data in thousand metric tons. Source: U.S. Geological Survey
These resources are found predominantly within sediment-hosted lead-zinc deposits (490.6Mt Pb + Zn + Cu), containing a mix of VMS, skarn, porphyry, and epithermal types. Forty-nine percent of the deposits are in Australia, Russia, Peru, and Canada.
According to an abstract from Ore Geology Reviews, "The reported Pb-Zn resources appear to be sufficient to meet global demand for both Pb and Zn until 2050, although this estimate is most certainly a minimum."
The paper notes the lead-zinc sector hasn't had a major discovery in over 20 years, leading to concerns over resource depletion occurring faster than for copper, gold, or nickel, among others.
Market
According to the International Lead and Zinc Study Group (ILZSG), global refined lead and zinc markets are likely to be in a deficit in both 2022 and 2023.
The group says demand for the refined lead metal will exceed supply by 83,000 tonnes in 2022. In 2023, a smaller deficit of 42,000t is expected. Zinc should be in a 297,000 tonnes deficit in 2022 and a 150,000 tonnes deficit in 2023, states ILZSG.
With the majority of the world's silver coming from lead-zinc deposits, we expect these mines to remain profitable and for new discoveries to be among the most coveted.
Zinc's current price of US$2,888 a tonne is a long way from March's record-high US$4,896, but physical buyers are still paying record premiums for the metal due to dwindling warehouse stocks.
Lead warehouse inventory losses are more extreme, putting upward pressure on prices. In October, available lead stocks at LME storage facilities fell to the lowest this century - equivalent to just a few hours of global consumption. The cancelation of 17,125 tonnes "in apparent preparation for physical load-out," Reuters said, saw the three-month lead price jump 12% to a near two-month high of $2,093.50 per tonne.
At month-end, lead became the 24th commodity to be included in the Bloomberg Commodity Index (BCOM), joining its London Metal Exchange (LME) peers aluminum, copper, nickel, and zinc.
This caused the London three-month lead price to gain almost 10% to US$2,019.50 per tonne. The current spot price is sitting at US$2,119/t, or US$0.96 a pound.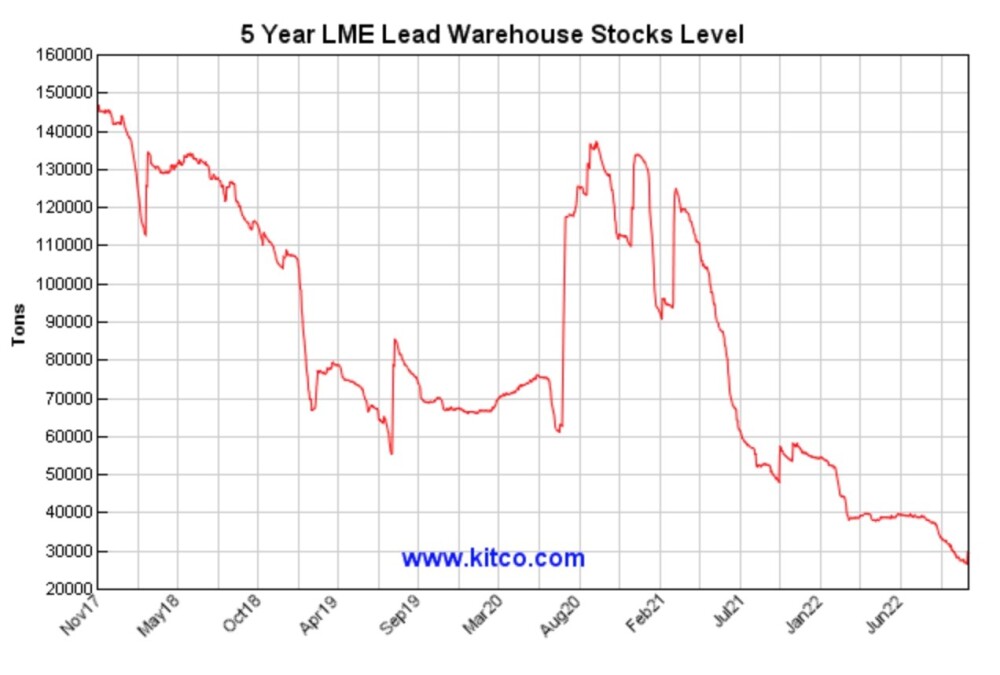 Source: Kitco
Source: Kitco
Conclusion
Some very large zinc mines have been depleted and shut down in recent years, with not enough new mine supplies to take their place.
MMG's shuttered Century Mine in Australia, for example, used to supply 4% of the world's zinc. Between the shutdown of the Lisheen Mine in Ireland, Century, and Glencore's Brunswick and Perseverance mines in Canada, over a million tonnes were ripped from global zinc production.
The closed mines represent an estimated 10 to 15% of the zinc market. On the flip side, there have been few discoveries or big zinc projects planned. This has set the zinc market up for a supply shortage (deficits are projected this year and next). Remember, zinc is the fourth most common metal in the world, meaning there is no let-up in demand. This, combined with zinc deficits, can only mean one thing: higher prices.
Over three-quarters (76%) of the lead consumed annually is used to make automobile batteries. Vehicles with lead batteries and internal combustion engines will arguably be with us for at least a couple more decades as the massive but slow transition to electric vehicles takes place. Lead bulls have little to fear.
Finally, lead-zinc mines provide an important function that some resource investors may not be aware of: they supply silver, the market fundamentals for which are quite bullish going forward.
Despite this year's price weakness alongside gold, there are multiple reasons to believe that longer term, silver will rebound.
The potential forces behind silver's next rally include monetary demand, industrial demand, above-ground stocks, gold-silver ratio, silver-copper correlation, net short positions reduced, physical market tightness, and low inventory.
Moribund silver may soon have liftoff.
With the majority of the world's silver coming from lead-zinc deposits, we expect these mines to remain profitable and for new discoveries to be among the most coveted.
Richard (Rick) Mills
subscribe to my free newsletter
| | |
| --- | --- |
| Want to be the first to know about interestingBase Metals andSilver investment ideas?Sign up to receive the FREE Streetwise Reports' newsletter. | Subscribe |
Legal Notice / Disclaimer
Ahead of the Herd newsletter, aheadoftheherd.com, hereafter known as AOTH.
Please read the entire Disclaimer carefully before you use this website or read the newsletter. If you do not agree to all the AOTH/Richard Mills Disclaimer, do not access/read this website/newsletter/article, or any of its pages. By reading/using this AOTH/Richard Mills website/newsletter/article, and whether you actually read this Disclaimer, you are deemed to have accepted it.
Any AOTH/Richard Mills document is not, and should not be, construed as an offer to sell or the solicitation of an offer to purchase or subscribe for any investment.
Disclosures:
1) Statements and opinions expressed are the opinions of Rick Mills and not of Streetwise Reports or its officers. Rick Mills is wholly responsible for the validity of the statements. Streetwise Reports was not involved in any aspect of the article preparation. Rick Mills was not paid by Streetwise Reports LLC for this article. Streetwise Reports was not paid by the author to publish or syndicate this article.
2) This article does not constitute investment advice. Each reader is encouraged to consult with his or her individual financial professional and any action a reader takes as a result of information presented here is his or her own responsibility. By opening this page, each reader accepts and agrees to Streetwise Reports' terms of use and full legal disclaimer. This article is not a solicitation for investment. Streetwise Reports does not render general or specific investment advice and the information on Streetwise Reports should not be considered a recommendation to buy or sell any security. Streetwise Reports does not endorse or recommend the business, products, services or securities of any company mentioned on Streetwise Reports.
3) From time to time, Streetwise Reports LLC and its directors, officers, employees or members of their families, as well as persons interviewed for articles and interviews on the site, may have a long or short position in securities mentioned. Directors, officers, employees or members of their immediate families are prohibited from making purchases and/or sales of those securities in the open market or otherwise from the time of the decision to publish an article until three business days after the publication of the article. The foregoing prohibition does not apply to articles that in substance only restate previously published company releases.