2023-05-23 / @thenewswire
(TheNewswire)
Vancouver, British Columbia – TheNewswire - May 23, 2023 – Westward Gold Inc. (CSE:WG), (OTC:WGLIF), (FSE:IM50) ("Westward" or the "Company") is pleased to announce remaining assay results from vertical diamond drill hole T2301 at the Company's Toiyabe Gold Project in Lander County, Nevada ("Toiyabe") (see press release dated April 26th, 2023, for additional information). T2301 was drilled to a total depth ("TD") of 612 meters, and significant gold intervals for the entire length of the hole are shown in Figure 1 below.
Key takeaways from T2301:
New zone of Carlin-type gold mineralization discovered down-section, to the northeast of previously-identified gold mineralization at depth (the "SSD Zone") 

Confirmed the mineralizing system continues to produce high-grade gold (>2 g Au/t) near surface and at depth, both gold zones remain open in every direction 

The hydrothermally-altered SSD Zone extends and strengthens to the northeast and gold mineralization is associated with significant oxidation; SSD Zone strike length now increased to 625 meters 

Pervasive vertical alteration of favourable lower plate carbonate host rocks indicates the potential for continuation of the gold system to the north and northeast 
Figure 1: Significant Gold Assays – T2301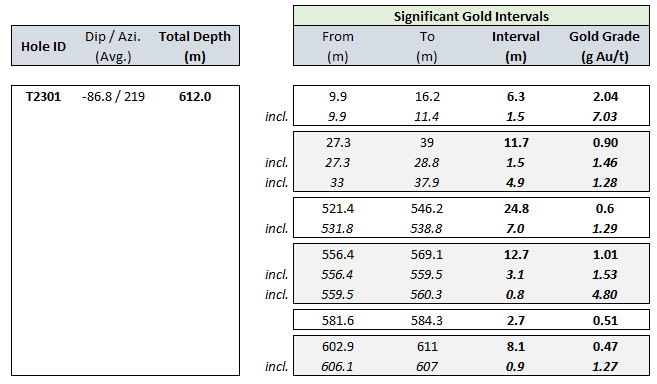 Note: Hole location (NAD83 UTM 11N): E 523084, N 4432898, Elev. 2335m. Gold intervals reported in Figure 1 were calculated using a 0.14 g Au/t cut-off. Weighted averaging was used to calculate reported intervals. True widths are estimated at 70-90% of drilled thicknesses.
Steve Koehler, Westward Technical Advisor, and recipient of the 2005 Thayer Lindsley Award for his role in the original Cortez Hills discovery nearby, noted: "The recognition of gold in upper plate rocks above or outboard from gold mineralization in lower plate carbonate rocks in T2301 is reminiscent of geologic patterns in the Carlin Trend north area – especially those gold deposits down-dip from the Carlin and Pete open-pit deposits. The down-dip continuation of the SSD Zone – and its association with favourable carbonate stratigraphy and compressional tectonic features – is similar to the setting of deeper deposits discovered on the Carlin and Cortez Trends."
Mr. Koehler continued: "In T2301 we've tapped into a previously-undiscovered area of lower plate gold mineralization, never before drill tested in this section of the property. Utilizing well-documented geologic models from the Carlin and Cortez areas is key to unlocking exploration value at Toiyabe."
Figure 2: Toiyabe Targeting – Carlin Down-Dip Model Analogue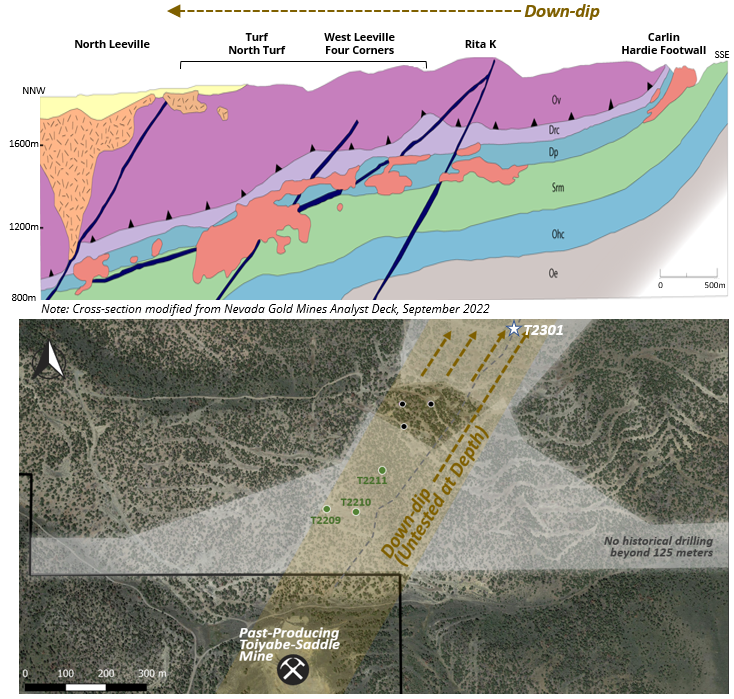 Hole T2301, the third-deepest ever drilled at Toiyabe, was designed to test for northeast extensions of the recently-identified SSD Zone.  This hole was collared as a 300-meter northeast step-out from the closest hole that intersected the SSD Zone (legacy hole T1002 intersected 16.7m of 2.15 g Au/t from 298.1m depth(1)).  T2301 intersected significant mineralization ~350m downdip to the northeast from the T1002 intersection, making the total known strike length of the SSD Zone approximately 625m in length trending northeast from hole T2210 – drilled by Westward in 2022 – to hole T2301.  The SSD Zone encountered in T2301 continues to be clay-altered and oxidized to TD at 612m (see Figure 3 below for visual examples). Mineralization remains open in all directions, including at depth where the hole ended in anomalous gold (8.1m of 0.47 g Au/t).  The focus of future drilling will be two-fold: (i) expanding the near-surface gold mineralization, and (ii) completing widely-spaced step-out drilling to determine the geometry and extent of the SSD Zone, both of which are trending to the northeast.
Dave Browning, Westward's VP Exploration, commented: "What we are seeing in T2301 is unique and has never been seen in any previous deep drilling at Toiyabe, and provides substantial evidence that our northeast vectoring is the correct strategy. The size of the alteration cell observed in surface mapping and our hyperspectral analysis – now confirmed at depth – leads us to believe there is a major feeder system responsible for the surface satellite deposits in the area. Permits are in hand through our Plan of Operations to allow for a robust follow-up of T2301."
Figure 3: Gold Mineralization at Depth Associated with Oxidation
(Note Units Shown in Boxes are Feet)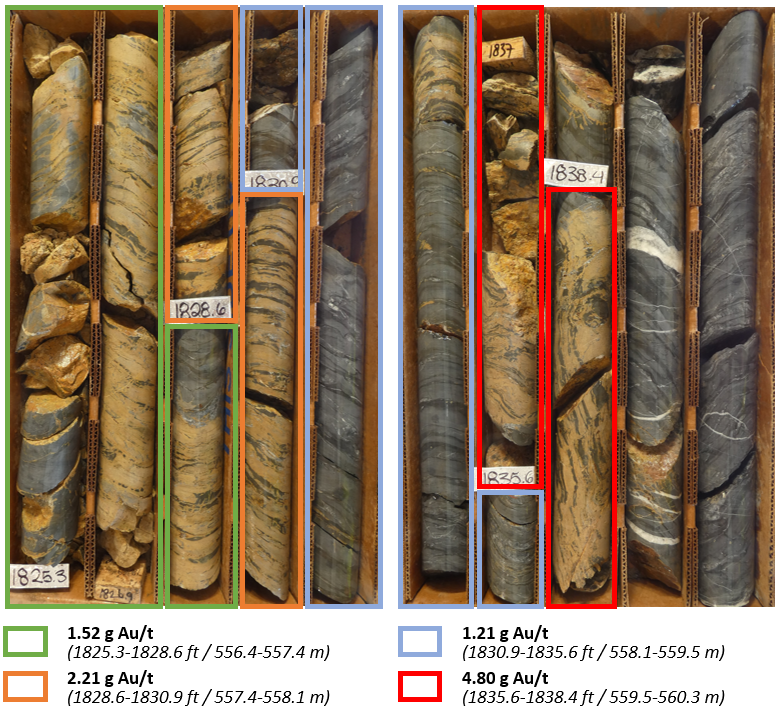 T2301 is one of the most important holes ever drilled at Toiyabe in that it confirmed many new geological theses developed by the Westward technical team since the property was acquired approximately 2 years ago, notably:
Favourable stratigraphy dips to the northeast, contrary to previous models: through relogging of legacy drill holes and hyperspectral imaging, Westward eliminated the topographical bias that had dominated previous operators' targeting efforts. T2301, combined with the 2022 reverse-circulation ("RC") drill campaign, confirmed this thesis (see Figure 4 for an updated cross-section). 

The adjacent past-producing Toiyabe-Saddle Mine and shallow gold mineralization at Toiyabe are near-surface satellite deposits of a larger mineralizing system at depth. 

The mineralizing hydrothermal system strengthens to the north and east: alteration (including oxidation, silicification, decalcification and brecciation) of the favourable lower plate carbonate rock package occurs over a ~365m interval in T2301 and is more pervasive compared to any previous holes. 

The Carlin Down-Dip Model analogue for Toiyabe (see Figure 2 above) remains intact and is supported by results from T2301. 
Dave Browning, Westward's VP Exploration, added: "The tireless efforts of the Technical Team to advance the exploration thesis over the last two years has been commendable. The success of T2301, a borehole that was collared based entirely on new datasets acquired by Westward, is a testament to the progress made at Toiyabe since June 2021.  We feel that we are now no longer searching for where the gold system may be, but rather we are on track to vector into the strongest parts it."
Figure 4: Toiyabe Cross-Section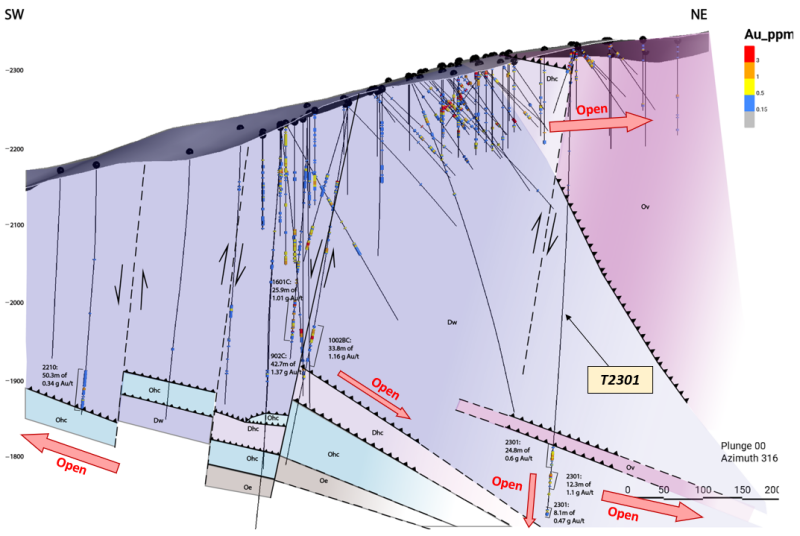 Click Image To View Full Size
Note: Figure 4 includes modelled drillhole traces and assay data inherited from previous operators, please see disclosure under endnote (1) for additional information.
As the Company continues to move north and east in its efforts to expand upon the strike length of both near-surface gold mineralization and the SSD Zone, it will benefit from having consolidated Toiyabe and the Turquoise Canyon Project, which lies adjacent and to the east. Westward's total land package in the area amounts to 39 sq. km of fully-contiguous unpatented mining claims, and also includes the East Saddle Project, which was staked by the Company in late 2021 and lies immediately south and east of Toiyabe.
Sampling Methodology, Chain of Custody, Quality Control and Quality Assurance "QA/QC"
The Company implemented a best-practices QA/QC program during the drilling campaign. All core cutting and sampling was conducted under the supervision of the Company's Vice President Exploration or Project Geologist, and the chain of custody from the project to the sample preparation facility was continuously monitored. Samples were transported directly from the company's core cutting facility in Crescent Valley, NV by Westward Gold personnel to Bureau Veritas' ("BV") certified preparation facility in Elko, NV, where they were crushed and pulverized.  Resulting sample pulps (30g sample size for gold and 500mg for multielement) were transported to BV's certified facilities in Sparks, NV for fire assay and Vancouver, BC, for multielement analysis. Bureau Veritas is independent of the Company.
Core sample intervals were determined based on geological observations from the technical team. Certified standards and blanks were inserted every 10 samples. All samples were analyzed for gold, silver, and 35 additional elements. Assays consisted of fire assay / AAS for gold, and Aqua Regia ICP-ES/MS for geochemistry. The data was reviewed and verified by Westward's Qualified Person prior to disclosure in any news releases, including this one.
Drill hole deviation was measured by gyroscopic down-hole surveys with tooling provided by REFLEX of Elko, NV.  The deviation surveys provided accurate data about the true inclination and azimuth of the holes.  Obtaining an accurate survey of the drillholes leads to a better contextual understanding of the core samples, and a more robust 3D geological model.
Data Verification
Westward personnel were on site throughout the drill campaign, and oversaw daily operations including the transportation of core boxes to a secure logging and storage facility in Crecent Valley, NV. Core was photographed and captured into a digital database, and one-half was retained in the physical core library. Assay certificates for all samples submitted to BV were received and audited against digital assay results as part of the Company's QA/QC procedure.
(1) Sources: NI 43-101 Technical Report, IM Exploration Inc., Prepared by Donald E. Cameron, P.Geo, August 5, 2021; Toiyabe data room and drill log files inherited from previous operators. The Company and its qualified person have relied on third-party data during its review of the information presented herein, and while it believes the information to be relevant to investors, it cautions readers that it should not be unduly relied upon in drawing inferences on the mineralization at Toiyabe, as additional work is required to confirm drill intercepts and/or soil samples, including (but not limited to): re-sampling and re-assaying of available core and/or pulps, verification of assay certificates where available, review and verification of drillhole geologic logs versus the preserved core and RC cuttings.
Qualified Person
The technical information contained in this news release was reviewed and approved by Steven R. Koehler, Technical Advisor to the Company, who is a Qualified Person under National Instrument 43-101 – Standards of Disclosure for Mineral Projects. Mr. Koehler is a Certified Professional Geologist (CPG) through the American Institute of Professional Geologists (AIPG).
About Westward Gold
Westward Gold is a mineral exploration company focused on developing the Toiyabe, Turquoise Canyon, and East Saddle Projects located in the Cortez Hills area of Lander County, Nevada, and the Coyote and Rossi Projects located along the Carlin Trend in Elko County, Nevada. From time to time, the Company may also evaluate the acquisition of other mineral exploration assets and opportunities.
For further information contact:
Colin Moore
President, CEO & Director
Westward Gold Inc.
colin@westwardgold.com
www.westwardgold.com
The Canadian Securities Exchange has neither approved nor disapproved the contents of this news release. The Canadian Securities Exchange does not accept responsibility for the adequacy or accuracy of this news release.
This news release contains or incorporates by reference "forward-looking statements" and "forward-looking information" as defined under applicable Canadian securities legislation. All statements, other than statements of historical fact, which address events, results, outcomes, or developments that the Company expects to occur are, or may be deemed, to be, forward-looking statements. Forward-looking statements are generally, but not always, identified by the use of forward-looking terminology such as "expect", "believe", "anticipate", "intend", "estimate", "potential", "on track", "forecast", "budget", "target", "outlook", "continue", "plan" or variations of such words and phrases and similar expressions or statements that certain actions, events or results "may", "could", "would", "might" or "will" be taken, occur or be achieved or the negative connotation of such terms.
Such statements include, but may not be limited to, information as to strategy, plans or future financial or operating performance, such as the Company's expansion plans, project timelines, expected drilling targets, and other statements that express management's expectations or estimates of future plans and performance.
Forward-looking statements or information are subject to a variety of known and unknown risks, uncertainties and other factors that could cause actual events or results to differ from those reflected in the forward-looking statements or information, including, without limitation, the need for additional capital by the Company through financings, and the risk that such funds may not be raised; the speculative nature of exploration and the stages of the Company's properties; the effect of changes in commodity prices; regulatory risks that development of the Company's material properties will not be acceptable for social, environmental or other reasons, availability of equipment (including drills) and personnel to carry out work programs, that each stage of work will be completed within expected time frames, that current geological models and interpretations prove correct, the results of ongoing work programs may lead to a change of exploration priorities, and the efforts and abilities of the senior management team. This list is not exhaustive of the factors that may affect any of the Company's forward-looking statements or information. These and other factors may cause the Company to change its exploration and work programs, not proceed with work programs, or change the timing or order of planned work programs. Additional risk factors and details with respect to risk factors that may affect the Company's ability to achieve the expectations set forth in the forward-looking statements contained in this news release are set out in the Company's latest management discussion and analysis under "Risks and Uncertainties", which is available under the Company's SEDAR profile at www.sedar.com. Although the Company has attempted to identify important factors that could cause actual results to differ materially, there may be other factors that cause results not to be as anticipated, estimated, described or intended. Accordingly, readers should not place undue reliance on forward-looking statements or information. The Company's forward-looking statements and information are based on the assumptions, beliefs, expectations, and opinions of management as of the date of this press release, and other than as required by applicable securities laws, the Company does not assume any obligation to update forward-looking statements and information if circumstances or management's assumptions, beliefs, expectations or opinions should change, or changes in any other events affecting such statements or information.
Copyright (c) 2023 TheNewswire - All rights reserved.