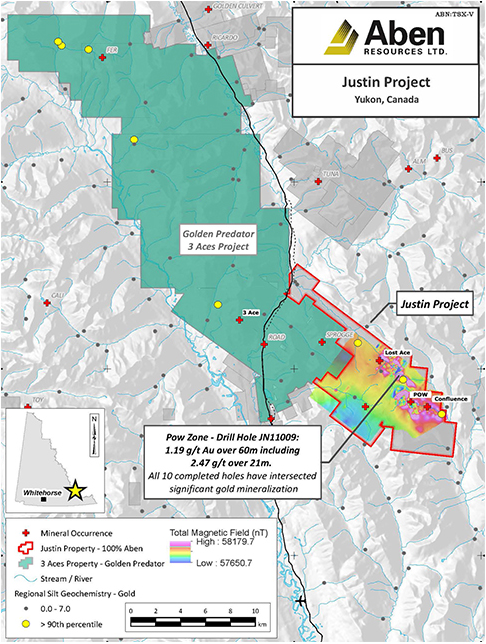 At the same time, Aben will also be firming up its knowledge of its Yukon prospect - called Justin - with plans to spend between $1m and $1.3m this year. That is a major escalation from the $150,000 to $200,000 spent in previous seasons on Justin, and the company hasn't drilled in Yukon since 2012.
Aben, holds a 100% interest in the 18,314 acre Justin Property. The property is located in southeast Yukon on the Tintina Gold Belt, to the immediate southeast of Golden Predator's 3 Aces Project.
Jim explains: "We hit an intrusion related gold system, which is typical of the Tintina Belt that runs from Alaska across the Yukon. And that's just where you have an intrusion that comes up, a younger-age rock, and it pushes everything out and creates fracturing, and you get lots of fluids in it. But generally, what you get in a system like that is large tonnage, lower grade. What we've hit this past two years by soil sampling, we caught on to something that looks an awful lot like Golden Predator's 3 Aces project, where it's a vein system. We definitely think it's orogenic, so it's intense veining and high grade."
Aben has pulled out 1,200 gold grains from a 4kg sample at Yukon, and Jim is convinced that they have not been displaced by glaciers. "They're almost all pristine, which means they weren't mobilized. We're sitting on top of something - it's all right there within meters," he said. In all likelihood, he expects Aben's claim to be part of the same system as 3 Aces, only closer to the surface.