By Dr. Allen Alper, PhD Economic Geology and Petrology, Columbia University, NYC, USA / November 19, 2020 / www.metalsnews.com /
Article Link
Nickel Creek Platinum Corp. (TSX: NCP; OTCQB: NCPCF) envisions becoming a leading North American producer of nickel, copper, cobalt and PGMs, through their wholly owned, large, undeveloped Nickel Sh??w Project, located in the favorable mining jurisdiction of the Yukon Territory, with exceptional access to infrastructure, including the paved Alaska Highway, which provides year-round access to deep-sea shipping ports, in southern Alaska. We learned from Stuart Harshaw, the new President and CEO of Nickel Creek Platinum, that the project has, on a contained basis, about 1.9 billion pounds ofnickel, about 1.1 billion pounds of copper, about 107 million pounds of cobalt and almost 6 million troy ounces of platinum, palladium and gold, and the potential for a 25-year mine life. In 2020, the Company conducted an extensive electromagnetic geophysics survey, on the area adjacent to the Nickel Sh??w project. Plans for 2021 are being made based on the results of that survey. With strong management, large institutional shareholders, and support from First Nations and the pro-mining Yukon government, Nickel Creek Platinum is poised to become a part of the growing nickel segment of the battery market.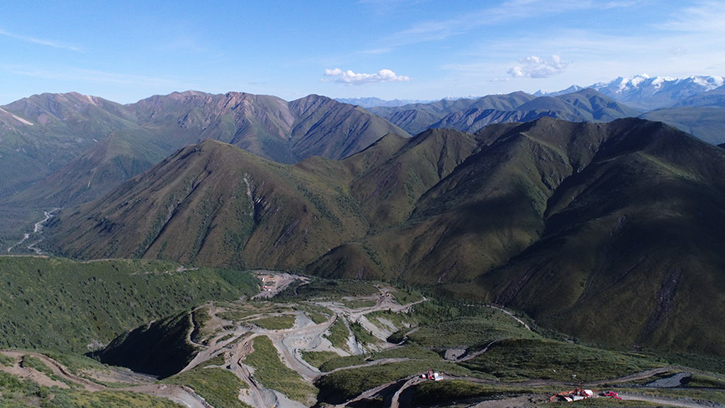 Nickel Creek PlatinumDr Allen Alper:This is Dr. Allen Alper, Editor-in-Chief of Metals News, interviewing Stuart Harshaw, who is President and CEO of Nickel Creek Platinum Corp. Stuart, could you give our readers/investors an overview of your Company and what differentiates your Company from others? Also could you update our readers/investors on what's been happening in the past year?Stuart Harshaw:Certainly. It's my pleasure and it's a pleasure to be here today. Thank you for inviting me. Nickel Creek Platinum has the Nickel Sh??w project located in the Southwest of Yukon Territory in Canada. It's a large-scale, nickel-copper sulfide and PGM deposit. When I say large scale, it contains about 1.9 billion pounds of nickel, about 1.1 billion pounds of copper, about 107 million pounds of cobalt and almost 6 million troy ounces of platinum, palladium and gold. It has the potential for a 25 year mine life. So when I say it's a large scale, it's a significant sized orebody!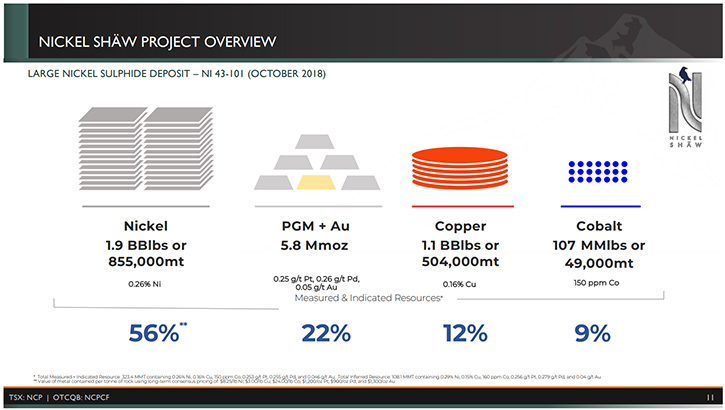 With respect to our project, the important thing about the Yukon is that it is exceptional in terms of its access to infrastructure and it has a very supportive government for mining. You can see that with certain of the major gold producers and projects moving forward in the Yukon. Gold exploration and mining is definitely something that the Yukon is known for.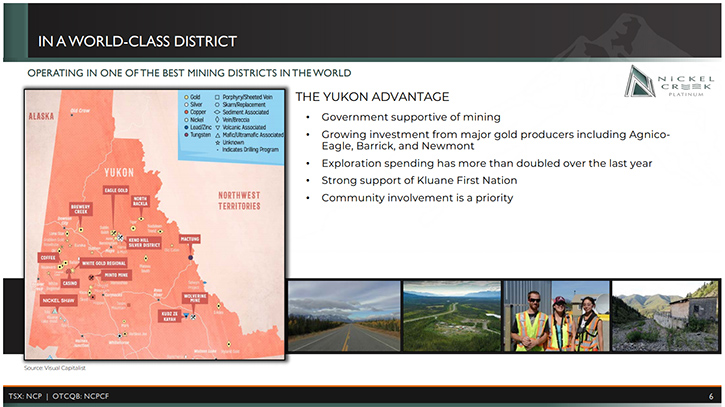 We also have very strong support of the Kluane First Nation, which is our local First Nations group and the community around us. Lots of excellent work is done by both and they are very supportive partners for us. Another key advantage is that we have large strategic institutional type shareholders with 48% being held by three key groups: Electrum Group, Drake and RCF. That has really helped support us in continuing to grow our business.In terms of the Management team, myself, I come from the nickel world. I've spent almost 30 years in the nickel PGM cobalt and copper worlds. I have a CFO, Joe Romagnolo, who has spent the past decade in the resource space, taking projects from exploration through to development. James Berry and Cam Bell are exceptional geologists and Heather White, a Mining Engineer with 25 years of experience taking projects from the ground up, including 18 years in the nickel world, where she developed and ran operating mines.In addition to the strong Management Team, we also have a very strong Board covering operations, capital, legal, geological, and HR experiences to help support the group.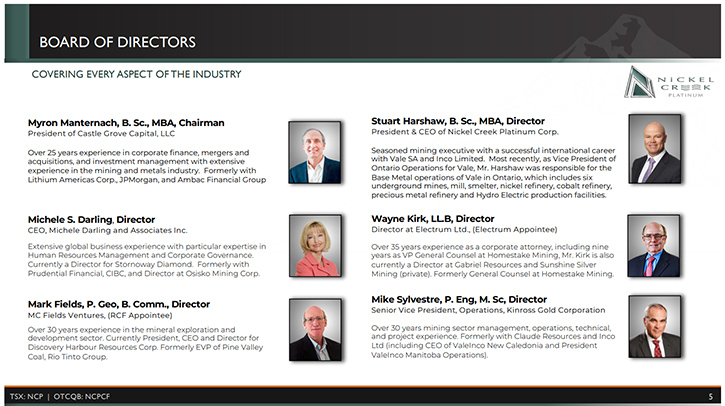 One of the key things with our project is its proximity to exceptional infrastructure. It's literally just off the Alaska Highway, which is a paved year-round highway, going through the Yukon to Alaska. And it has an existing 14-kilometer, all-weather road leading directly to the deposits.These existing roads provide access to the Haines and Skagway deep sea shipping ports, which are year-round operations that can provide economic access to downstream smelters for our anticipated concentrates.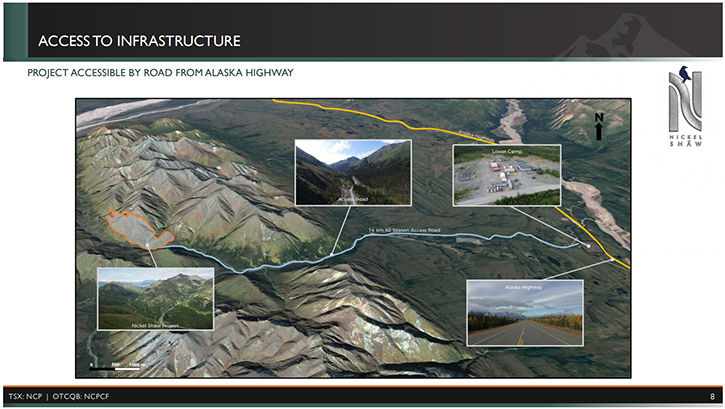 Whitehorse is only three hours down the road and as the largest city in the Yukon, it provides access to the different trades and special services needed by the mining industry. Also, the LNG is available in Whitehorse for power generation, which offers us key access to less expensive power.Over the last three years, Nickel Creek has focused on the Wellgreen deposit, from both a resource and metallurgical perspective. The resource has proven out in terms of having 323,000 kilotonnes of measured and indicated, and the inferred at 108,000 kilotonnes. Work now is focused on exploring different areas of the Nickel Sh??w project, with Electromagnetic geophysics and drilling programs.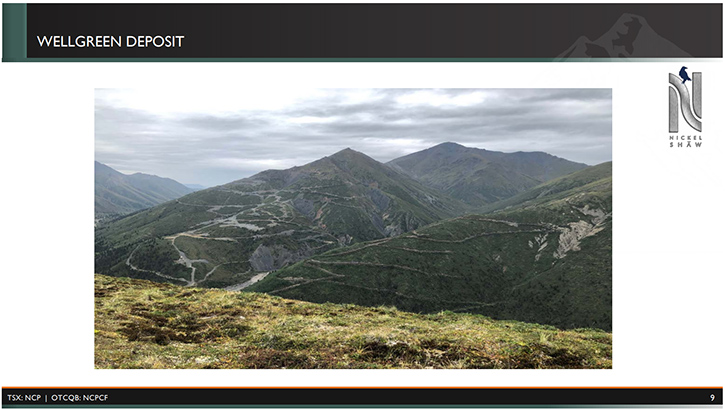 Dr Allen Alper:That's an amazing project.Stuart Harshaw:I'm excited. I come from the nickel space. The key thing with nickel projects is having that ability to have what the nickel world would call byproducts, but the rest of the world would call key co-products. That would be copper, cobalt and platinum group metals. When you discuss nickel, everybody has Elon Musk and the EV market on their minds. The proliferation of the EVs and energy storage application has a significant impact on nickel, copper and cobalt. The growth in that industry is going to require a significant amount of nickel and cobalt for the batteries, and it's also going to be needing a lot of copper from an infrastructure point of view. By infrastructure, I am referring to the need for plug-in stations at every condominium complex, and every house, as well as improvement to the power grid to handle the additional loads. I'm very excited because I see this as a project that really can bring forward all of those key elements.Dr Allen Alper:That sounds excellent. Could you tell our readers/investors your plans for the remainder of 2020 and 2021?Stuart Harshaw:Certainly. The Wellgreen deposit, within our Nickel Sh??w Project, only represents about 15% of our mineralized ultramafic belt. We have about 18 kilometers of it along strike. Starting in 2019, we initiated an electromagnetic geophysics survey across the entire mineralized belt, starting with the Quill target area, which is adjacent to the existing Wellgreen deposit. This consisted of about 11 kilometer of lines and we determined that there are some interesting conductor targets, warranting further follow up. So this summerwe had a small drill program of two holes and expanded our ground-based EM survey to cover the remaining district, which constituted an additional 28 line km's of survey over the remainder of our entire 18 km mineralized ultramafic belt. (silent on this year's drilling program)We are currently reviewing results from this summer's work and in the next month we will be releasing the results.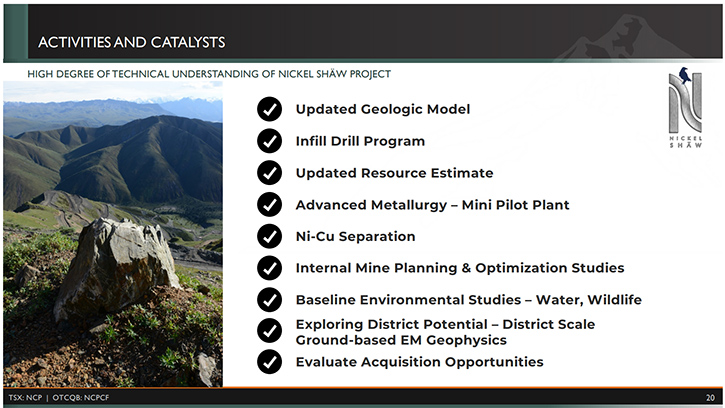 Dr Allen Alper:That sounds very good. Could you tell our readers/investors a little bit about your share and capital structure?Stuart Harshaw:We talked about having some really key shareholders in play. So really, that's a very strong basis to go off from. Depending on the market fluctuations, which we are seeing nowadays, we have a market cap of around 50 million Canadian dollars right now. We have some cash, so we're in a good situation on cash right now. Shares outstanding are about 344 million shares. There are about 192 million warrants, with an average exercise price of about 18 cents, resulting in a fully diluted share basis of about 558 million shares.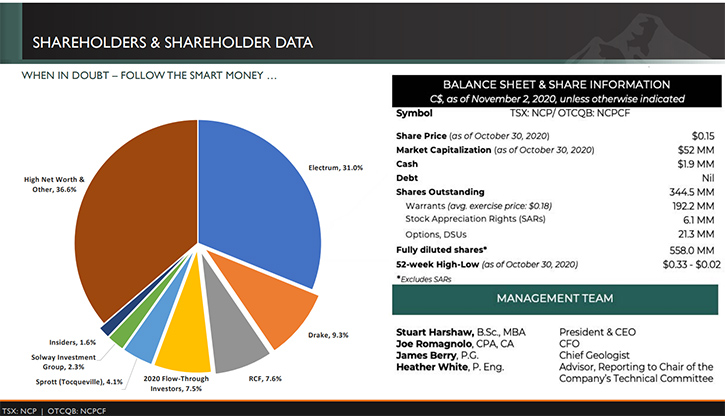 Dr Allen Alper:That sounds excellent. Could you tell our readers/investors a little about some of your key investors and some of them that are represented on your Board?Stuart Harshaw:In terms of our key investors, Electrum represents 31% of the shares and is our single largest shareholder. They're a firm that is involved across the resource base. They are long-term investors and very strong supporters of our project moving forward. Drake, out of New York, comes in next around 9% and again, they are investors that look for long-term investments. RCF is in with almost 8%. Other notables are Sprott, Solway as well as many high-net-worth individuals that make up one third of our shares are held in that category.Dr Allen Alper:It sounds like you have great support, so that's excellent. You have a fantastic deposit in a wonderful area and you have great support of institutions and high high-net-worth individuals to help you move the project forward. You have a fantastic background as does your team. So, it sounds like you have everything going for you.Stuart Harshaw:I like to think so. I think we can always improve. You can always get better and move things forward, but given the support and the team we have, I'm very excited.Dr Allen Alper:Well, that's excellent, Stuart! Could you tell our readers/investors the primary reasons they should consider investing and Nickel Creek Platinum?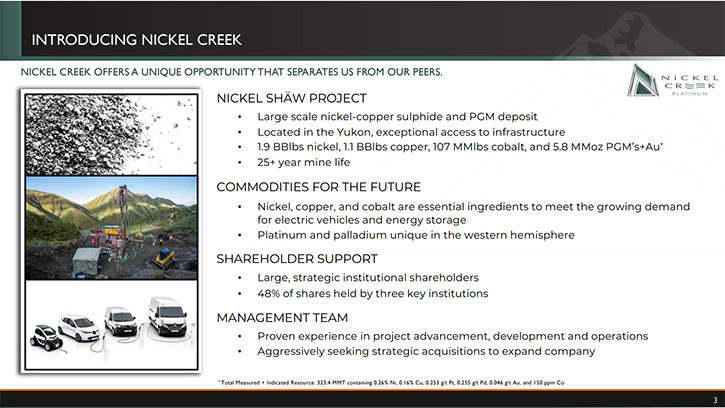 Stuart Harshaw:Absolutely. I see Nickel Creek as an opportunity for investors to gain exposure to the nickel market and the battery markets that represent significant growth segments. Nickel and copper are two metals that will have a big part to play over the next 30 to 40 years. So, I see Nickel Creek as a great way to invest in that future.Dr Allen Alper:That sounds like it would be a great opportunity for our readers/investors to consider. Is there anything else you'd like to add Stuart?Stuart Harshaw:I am very open to having conversations on the nickel market and the opportunity of investing in the Company. Dr Allen Alper:Well, that sounds excellent. We'll publish your press releases as they come out so our readers/investors can follow your progress.https://www.nickelcreekplatinum.com/Tel: +1.416.304.9315Toll Free: +1.833.304.9315 (Canada and USA)Fax: +1.416.583.2438info@nickelcp.com